Our well equipped cosmetics salon is the reference-salon of world-famous Maria Galland from Paris, Payot from Paris and GIGI from Israel. Our well educated cosmeticians take care of your facial skin with the most suitable treatment. Fall to temptation and your skin will makes return for the care. Not only women wish beautiful skin, we wait for exacting male guests, too. Our other treatments are facials for teens, occasional make-ups, full and part epilation, nutrient packs and masks, and skin-younger and wrinkle-filling up treatments.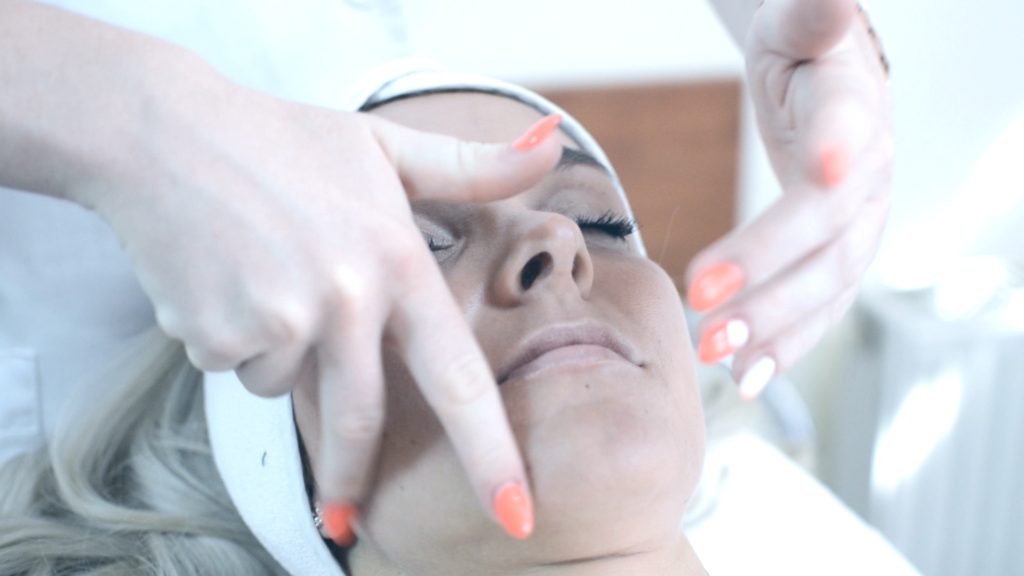 A.) Maria Galland Paris is exacting beauty-care.
Maria Galland Paris is not only an exclusive therapy. Every face has the own characteristic and it wants a special care.
Be original, individual and manual!
Beauty-care systems of Maria Galland Paris were born from this unique philosophy.
Original, because it is designed by specialists, veritable and unfabricateable.
Individual, because the cosmetics from specialists of Maria Galland Paris practise this.
Manual, because the history and future of beauty-care can be summarised in one word: competence, and these can't be substituted for any machines or equipments: hands! Maria Galland Paris does not only offer an exclusive therapy.
Make yourself familiar with treatments and marvellous care products of Maria Galland Paris!
Mask Modelant:
Facial and body treatment of Maria Galland Paris Masque Modelant method is rich in nutriments and it is unique all over the world. Because the structure of our skin is not the same everywhere, there are dry and sensitive poles, parts with wrinkles and these want different effective agents. We can treat the different skin problems with Maria Galland Paris Masque Modelant at the same time.
After applying special creams the cosmetician uses a special technics to put up a mask with mineral salts and she modelierts the face. She smoothes out the lines and pushes up the outline of the face. The poles open because of the hot and the effective agents can reach the deeper layers. At the same time it stimulates the blood and lymph circulation and the release of roughage, too. After 20-25 minutes the heat of the skin goes back to its original and the poles contract.
After pilling up the mask we will have a nice, fresh, relaxed face.
Cocon-Therapy:
Antistress treatment
– With special massage
– With special mask
The Maria Galland Paris laboratory has made an exclusive effective agent-complex from natural quell with "complex technology". The stress gives filled-out, pale skin a seenable strength, solidity and flexibility meanwhile it gives cells new energy and valuable wet. It gives the tired facial colour tone, vitality and brilliance after a few minutes.
– Renewing treatment with fruit acid
– Nutrimental treatment
– Hydrating treatment
– Anti-wrinkle treatment
– Energy treatment
– Treatment for sensitive skin
L'homme Galland:
Male complexion care, which offers a real feeling towards life. The philosophy of Maria Galland Paris is valid here, too: Everybody gets the most suitable, personal treatment, because every skin is unique. The L'homme Galland treatment is a real relaxation. It is a treatment for men.
The exclusive refreshing-relaxing mask and a special eye-protecting treatment hydrate deeply, flex and relax the facial and offer the best feeling.
C.) Payot
"Beauty depends on harmony, the harmony of mood." /Dr. Nadja Payot/
Payot's philosophy hasn't changed for ages. Every woman is special and everybody gets the most suitable treatment and product. Each Payot product is hypoallergic and tested continuously. Most of the effective agents consist of natural vegetable essences and biotechnical ingredients. The preparations don't cause skin-irritation and they are suitable for every skintype and skinstate.
Cocon-therapy
Vitalizing treatment with cleaning for women and men
Relax minor treatment for women
Skin regenerating treatment with oxygen
New Age treatment for mature skin
C+A vitalizing treatment
Wrinkle lifting with collagen
Skin regenerating treatment with aromatherapy
SPS treatment for the sensible skin
Depilation with depilatory resin
Decorative make up for special occasions
Dyeing of your eyebrows and eyelashes